AM Insurance and its staff supported the American Cancer Society Relay for Life this past April 9, 2011. Continental/United challenged teams from around the island to the best times in a men's and coed Plane Pull event titled "Towing the line to save lives".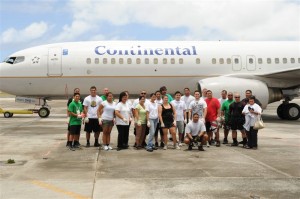 AM Insurance placed 4th in the co-ed division, posting their best time at 5.36 seconds. Team AM Insurance beat out 20 other teams in the co-ed division and posted a better time than more than half of the men's division. Teams mustered their collective energy to tug a Continental Airlines 737 aircraft, 12 feet, with a total weight of 145,000 lbs, in the shortest amount of time to win the title.
The following employees showed up: Gerard , David, Warren, Lyn, Elaine, Monica, and Toni.
Special recognition to : David Martin for being on time and first to show. Gerard Blas – Team Captain Monica – for recruiting the extra female representative to qualify and for pulling the plane even with her limitations. Also she got her Husband to provide us additional manpower from the 44th National Guard Squadron. Josh Mendiola for recruiting additional help from Foremost. Not to forget – our former employees – Lani, Jake, Bobby Tyler, Jolaine and Phillip (David's friend).
Comments Off

on AM Insurance Competes in the Continental/United Plane Pull Event