Annmarie T. Muna, General Manager
With over 30 years of insurance knowledge and experience Ms. Muna is one of the most experienced brokers servicing government accounts on Guam.  She is uniquely qualified to access Excess and Surplus Lines Insurance markets in Europe and America.
While attending the University of Guam and working as an Insurance Clerk for Universe Insurance Underwriters (UIU), Ms. Muna set her sights on one day opening her own business.  She worked her way up the corporate ladder, towards an insurance underwriter.  Upon graduating from the University she had achieved the position of Production Manager.  Her professional training includes marketing and underwriting for casualty, property, auto, bond, aviation and marine insurance. A graduate with top honors from UOG, she holds a Bachelor's Degree in Business Administration with a double major in Management and Public Administration.
Ms. Muna formed AM Insurance in January 1994, in response to growing need for excess and surplus coverage of large local companies. She is a licensed independent broker and can access numerous international markets for her clients.
Her knowledge and expertise of the local insurance industry combined with her strong relationships with international underwriters has allowed Ms. Muna to build a solid portfolio which surpasses most others.  Her unique qualities and expertise have bolstered the company's growth, affording AM Insurance the reputation for being a leading broker on Guam.
Annmarie believes in giving back to the community.  She annually supports the American Cancer Society, Make a Wish Foundation, American Red Cross and numerous other organizations.  Annmarie is currently a Board of Director on the Guam Chamber of Commerce and American Red Cross.  She is also a board member on the Guam Community College Foundation Board of Governors. Through her company, AM Insurance, she is a business partner of the Airports Council International (ACI).  She is also a member of the Association of Pacific Ports (APP).
Tricia R. Granillo, Insurance Manager
Tricia R. Granillo joined AM Insurance in 1997.  She started her insurance experience in the Underwriting Department handling all personal and commercial lines Insurance.  Mrs. Granillo headed the Underwriting Department and was responsible for all its underwriting functions.
Over the years with the company, she gained valuable insight in marketing and sales by servicing commercial, government and personal accounts.  Mrs. Granillo now is responsible for the Commercial & Government Accounts.  As the Government Accounts/Marketing Manager, Granillo handles all government accounts and works closely with the General Manager to provide personalized and professional brokerage services.  She has claims handling experience and is trained in both commercial and personal insurance lines.
Mrs. Granillo is a licensed insurance broker under AM Insurance.  She went through training in London learning in detail how Lloyd's of London brokers an underwriters process accounts and service claims.
Throughout her industry career, Mrs. Granillo has taken advantage of numerous professional training enhancement programs, which have added valuable dimension to her knowledge of the insurance field.  She has also attended numerous insurance related seminars offered by the Claims Association of Guam and AIU, which emphasize insurance mechanics and loss prevention measures for various Business Interruption and Pollution Claims.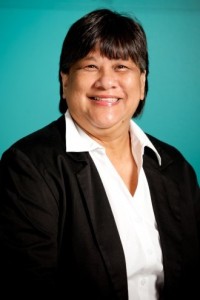 Antonita O. Blas , Administrative Manager
Antonita O. Blas  (Toni) joined AM Insurance as a part-time employee before committing to a full-time position in March 2001.  She started in the accounting department and now handles the operations of the company as the Administrative Manager which handles all accounting matters and administrative support services.
Over the years with the company she gained valuable insight on insurance.  Although her work focuses on the accounting aspects of the company, she has received training in various aspects of insurance which has enhanced her ability to assist the underwriting department.
Mrs. Blas is a merit award scholar.  She has a Bachelor's Degree in Elementary Education and a Master's Degree in Education from the University of Guam.  She retired from the Department of Education in 1999.  Her administrative training and experience comes from positions held at the Guam Community College as a Program Specialist, Associate Dean and Acting Dean of Student Support Services. Mrs. Blas is the President of Onedera Inc. and Y Ma'gas Inc.   She was also a Serve Guam Commissioner and Program Management Committee Vice Chair.